Best Kitchen & Bathroom Design Ideas
You may not realize that you spend a lot more time than you think in your kitchen and bathroom. You begin and usually end your day in the bathroom getting ready for the day or unwinding from work or activities. Your kitchen is more than just a place you cook and eat. It is where you gather with family and friends for a party, or do homework with the kids, or even pay bills. Your kitchen and bathroom should represent your personal style and personality. At Wheat's Carpet One, we have a professional staff who can help you make your dream kitchen or bathroom become a reality. Choose from our selection of floors, countertops, cabinets and more at our showroom.
Kitchen and Bath Cabinets & Storage
Cabinets are a functional and stylish addition to your kitchen or bathroom. Not only do they just support your countertops, but they also offer storage solutions as well. We carry a full selection of stock cabinets that fit the needs of most projects and budgets. Stock Cabinets comes pre-assembled in various sizes for you to choose from, all you have to know is which color you like. We also offer custom cabinet solutions for those who truly want to make their dream kitchen or bathroom become real.
Best Countertops for your Home
Countertops are essential to any kitchen or bathroom. They add style to your space while also being a functional piece. There are several different materials to choose from that all each come in different styles and colors. Choose from budget friendly options such as laminate, or more pricy but well worth the investment options such as granite or quartz. Make sure you choose your counters based off of the needs of your kitchen and to ask about which types of counters would work best for your home.
To learn more about our kitchen and bathroom designs, contact Wheat's Carpet One Floor & Home or visit our showrooms in Northport, Trussville, and Vestavia, AL.
Kitchen and Bathroom Designs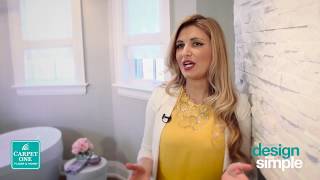 Bathroom Design Inspiration
Interior designer Dvira Ovadia has some advice on creating a relaxing master bath that is both functional, and feels like a retreat.
Custom Cabinets
We offer custom cabinet making for those who wish to make their dream home become real. Learn about what makes custom cabinets so desirable among homeowners.
Learn About Custom Cabinets